Home&nbsp&nbsp&nbsp knotty together&nbsp&nbsp&nbsp The Futures Market&nbsp&nbsp&nbsp Shattered Glass&nbsp&nbsp&nbsp
La Senorita Mundo&nbsp&nbsp&nbsp
Reviews&nbsp&nbsp&nbsp Soundbytes&nbsp&nbsp&nbsp Order CD&nbsp&nbsp&nbsp Contact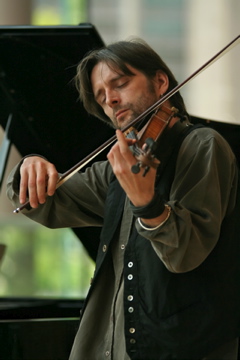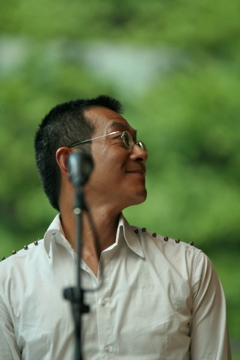 CD Picnic in the cemetery now available.
"Playful ... heartfelt ... satisfying"
"a pleasure to behold"
- David Olds, editor, Wholenote magazine

"The rare ideal of new music that is also pleasant listening"
- John Terauds Toronto Star

The three musicians of Day OFF met while touring as members of Canada's modern dance company, La La La Human Steps. During two years, we gave over 100 performances with the company, in major cities across Europe, North America and Asia, including Vienna, Paris, Salzburg, Berlin, Munich, Prague, Rome, Moscow, Amsterdam, Antwerp, Lyon, Seville, Seoul, Tokyo, Ljubljana, Aarhus, Vilnius, Los Angeles, Chicago, New York, Vancouver, Toronto and Montreal, among others.

Apart from touring the show Amelia

with the company, we also recorded and contributed original music to the soundtrack of the award winning dance film of the same name, directed by Edouard Lock. The film has won many awards worldwide, and was nominated for an international Emmy.
The chamber band Day OFF was founded during the tours with La La La Human Steps. Our instrumentation is classical - a trio of piano, violin and cello. We perform only original music - a music creation guided by the classical traditions and the sensibility of the contemporary pop culture - incorporating principles of minimalism, rhythms of world music and sensibility of popular music, from pop, to rock to electronica - old world in the new world.
We entered the garageband.com contest in the ambient, classical and world music categories and are doing well there. Apart from finding our music very romantic, filmic and visceral, reviewers also find our work reminiscent of artists ranging from Rachels' to Rob Dougan to God speed you black emperor to Peccatum.
Day OFF is violinist Simon Claude, cellist Alexandre Castonguay from Montreal and pianist/composer Njo Kong Kie from Toronto.