Home&nbsp&nbsp&nbsp Day OFF&nbsp&nbsp&nbsp knotty together&nbsp&nbsp&nbsp The Futures Market&nbsp&nbsp&nbsp Shattered Glass&nbsp&nbsp&nbsp
La Senorita Mundo&nbsp&nbsp&nbsp Reviews&nbsp&nbsp&nbsp Soundbytes&nbsp&nbsp&nbsp Sales&nbsp&nbsp&nbsp Contact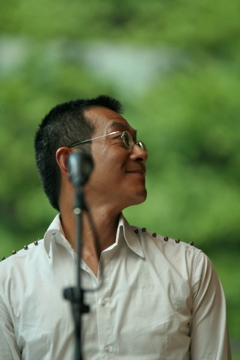 Let me introduce myself. My name is Njo Kong Kie. I am a Toronto-based pianist and composer. I was, between 1996 and 2012, the pianist/musical director of Montreal-based modern dance company, La La La Human Steps with which I gave close to 600 performances of five different productions throughout Canada and abroad. For these productions, I worked closely with contemporary composers Gavin Bryars and Pulitzer prize-winning composer David Lang in the interpretation of their compositions. He produced four soundtrack albums for these shows.
As a composer, I write chamber music, operas, dance and film scores. Please follow the links above to find out more about these various pursuits.
As a composer of operatic works, I create chamber operas dissecting topics ranging from same-sex marriage (knotty together) to human organ trafficking (The Futures Market). These operas have been presented in theatre festivals in Toronto and Dublin, Ireland. I have also arranged and orchestrated a Chinese musical which was presented in Macau.
I founded the chamber group Day OFF with musicians from La La La Human Steps. Music from our debut album has been used in multiple dance productions by choreographers Aszure Barton, Gioconda Barbuto and Shawn Hounsell for Nederlands Dans Theater, Ballet National de L'Opéra du Rhin, Hubbard Street Dance Chicago, Ballet British Columbia and the Singapore Dance Theatre.
I have also created original compositions for productions of the Silesian Dance Theatre (Poland), the Point View Art Association (Macau) and for choreographer Anne Plamondon (Montreal). I have worked with Alejandro Alvarez, former principal dancer of Les Grands Ballets Canadiens and Compañía Nacional de Danza de España, contributing music to his award-winning short film Deep Sleep and his theatrical production Érase un Mono, based on Kafka's A report to an academy.
Playing landscape, a multi-media dance theatre piece developed with Macau Artists was presented in Cape Verde in Sept 2013, the first Asian performance company to be invited to the country. Picnic in the cemetery, a production featuring my works for piano trio toured to Edinburgh, Beijing and Guangzhou in 2014 and Portugal and Taiwan in 2015. The work is set to continue touring in the fall of 2016.
Recent works include incidental music to Hannah Moscovitch's play INFINITY.. This production by Volcano Theatre played a sold-out four-week run at the Tarragon Theatre in Toronto and the music received both critical and popular acclaim. This production will be touring Ontario in 2017 including a stop at the National Arts Centre in Ottawa.
Upcoming projects include a collaboration with playwright Marjorie Chan on the play The year of the cello. as well as mounting a production of the music theatre piece Mr.Shi and his lover in the SummerWorks Performance Festival in Toronto.