Home&nbsp&nbsp&nbsp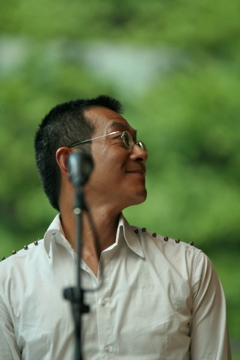 A ping pong and picnic enthusiast, Njo Kong Kie is also a composer, a pianist and a music theatre creator. His company, Music Picnic, was company-in-residence at Canadian Stage in the 2017-2019 seasons. During that time, Kong Kie presented two music-focused interdisciplinary work, Picnic in the Cemetery, a concert-theatre and I swallowed a moon made of iron, a staged song cycle.
Kong Kie creates chamber operas dissecting topics ranging from same-sex marriage (knotty together) to human organ trafficking (The Futures Market). His music theatre piece Mr. Shi and His Lover became the first-ever Chinese language production at SummerWorks Performance Festival, Tarragon Theatre and the National Arts Centre. The work was a feature Canadian presentation at the Cervantino Festival in Mexico in 2019 and toured to Estonia in March 2020.
Kong Kie also lends his skills to collaborations, including incidental music to theatre works INFINITY (by Hannah Moscovitch), No Strings attached (by Sunny Drake) and Loss (by Ian Kamau).
In dance, he has created compositions for Aszure Batron (Nederlands Dans Theater, Hubbard Street Dance Chicago), Shawn Hounsell (Ballet BC) and for Anne Plamondon. He has been twice commissioned by the Hong Kong Arts Festival to compose music to their dance productions. Kong Kie was also the long-serving music director and pianist of La La La Human Steps and has produced four albums of soundtrack for their shows featuring works of David Lang and Gavin Bryars. Kong Kie music directed I Am William at the Stratford Festival in 2021.
Kong Kie has contributed music to a web video of the London International Festival of Theatre (LIFT), the web site of Margaret Atwood's novel Oryx and Crake, the soundtrack of Edouard Lock's film Amelia and the CBC documentary series China Rises. He has worked with Alejandro Alvarez for his award-winning short film Deep Sleep, the CBC short doc Untitled Portrait as well as the web series Off Kilter.
Upcoming projects include opera creations with Liza Balkan, Douglas Rodger and John Greyson.
Upcoming production: The Year of the Cello, co-created with Marjorie Chan @ Theatre Passe Muraile, fall of 2022.
Upcoming tours: I swallowed a moon made of iron (Vancouver, Kuala Lumpur, Singapore and Jakarta).
SELECT COMPOSITIONS
Amplify for string quartet
Music arrangement for the score of I Am William by Déraspe, Lacasse and Landry
Red Moon for piano, marimba and drum kit
I swallowed a moon made of iron, a song cycle to poems by Xu Lizhi
Mr. Shi and His Lover, music theatre in Mandarin
Picnic in the Cemetery, a concert theatre
La Senorita Mundo, a chamber opera with libretto by Kico Gonzalez-Risso
knotty together, an opera with libretto by Anna Chatterton
Shattered Glass, a chamber opera, libretto by Douglas Rodger
INFINITY, suite for solo violin for a play by Hannah Moscovitch

No strings attached, suite of solo piano for a play by Sunny Drake
Loss, soundtrack to solo theatre work by Ian Kamau
Untouched, soundtrack to a dance piece by Aszure Barton
Les memes yeux que toi, a dance by Anne Plamondon
Outspoken, soundtrack to a dance production for the HK Arts Festival
MOP, soundtrack to a dance production
RUSH, soundtrack to dance commissioned by the HK Arts Festival
Playing Landscape, ink-water movement theatre, commissioned by Point View Art Association