Home&nbsp&nbsp&nbsp Day OFF&nbsp&nbsp&nbsp knotty together&nbsp&nbsp&nbsp Shattered Glass&nbsp&nbsp&nbsp La Senorita Mundo&nbsp&nbsp&nbsp
Reviews&nbsp&nbsp&nbsp Soundbytes&nbsp&nbsp&nbsp Order CD&nbsp&nbsp&nbsp Contact
"The miracles of medical science and the everwidening gap between the haves and have nots of the world have led some of us to make a very new form of Faustian bargain. This opera is a meditation on The Futures Market."
Originally written for the 2007 Wrecking Ball, this short chamber opera was first performed during the Summerworks Theatre Festival in August 2007. It has since been presented at Yonge-Dundas Square as part of the line up of the New Music Marathon in Sept 2007 and more recently in May 2008 at the Richard Bradshaw Amphitheatre of The Four Seasons Centre of Performing Arts.
Of our Wrecking Ball premier, Eye Weekly critic Gord McLaughlin wrote:
Composer Njo Kong Kie contributed the beautiful score to The Futures Market, a 13-minute opera. The strong, developing voices of soprano Janna Pardy and baritone Neil Aronoff were a treat to hear up close... It was so musically gorgeous that the politics of the scenario became incidental to this critic. But thanks!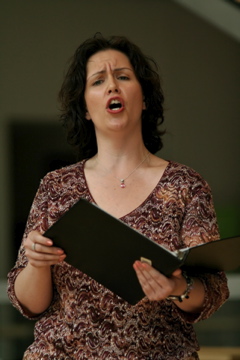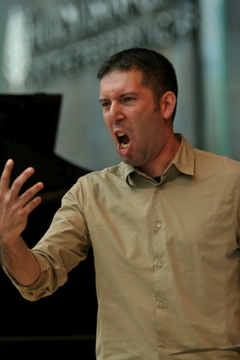 The creators
Over the last thirty plus years Douglas Rodger has done just about every job that you can do in a theatre, from the front of house to backstage as well as producing several productions. As a dramatist, he has written for CBC Radio, various television series, feature film and the theatre where his work includes Donut City, a play with music for CanStage and How Could You, Mrs. Dick?, a murder mystery based on real life events, which has been widely produced. (The Wintergarden Theatre, The Tivoli Theatre, Theatre Aquarius, Hamilton Place)
In addition to his growing involvement with new operatic forms, he is currently writing the book and the lyrics for an original musical called Hung Out To Dry, set in the demi-monde of Depression-era Toronto.
Njo Kong Kie is a musician living in Toronto. An active dance pianist, he plays for classes at the National Ballet School of Canada and is currently on tour as pianist and music director of La La La Human Steps' new show Amjad. Kong Kie has created two other chamber operas, knotty together (with Anna Chatterton) and Shattered Glass (with Douglas Rodger). These works have been presented at the Rhubarb and Summerworks Theatre Festivals.
Kong Kie is the founder of chamber music band Day OFF. Their debut album Picnic in the cemetery is available at various websites.
Excerpts of Kong Kie's compositions have been used on the web site of Margaret Atwood's novel Oryx and Crake, on a web video of the London International Festival of Theatre and on the soundtrack of Edouard Lock's film Amelia and the CBC documentary series China Rises. Kong Kie has recently collaborated on a song with Patricia O'Callaghan and wrote a choral piece for Forte, the Toronto Men Chorus, as part of their 10th anniversary celebration.
Kong Kie is always looking for good stories to tell.